Blog post written by Kathryn Walton – Events and Communications Assistant
The Spanish Chamber of Commerce in the UK is fortunate enough to have some of the best Spanish restaurants in London as loyal Members of our institution. As Spanish culinary experts, it goes without saying that their menus boast the most delicious croquetas in London, so we at the Chamber decided to embark on our very own Croquetas Tour to sample their take on this delicacy ourselves. From the Chamber's office in central London, we set off to visit six of our Member restaurants on a meticulously planned route – and the croquetas went above and beyond our already high expectations!
👉 Click here to watch the recording: http://https://bit.ly/3DUuJt2
To kick off our tour we made our way to one of the largest and oldest food markets in London, Borough Market, to sample our Member restaurant Brindisa's authentic Ibérico ham croquetas. We were thoroughly impressed by the buzzing atmosphere, the friendly staff, and the mouth-watering croquetas that we received. What makes Brindisa particularly authentic is that it is a traditional tapas bar with no reservations. What's more, the restaurant offers both indoor and outdoor dining, so you can choose to dine inside, or breathe some fresh air on their stylish terrace. Whilst we were there, the team decided that it was imperative to try their terrific 100% acorn-fed Ibericó ham, which was certainly favoured amongst our Spanish members.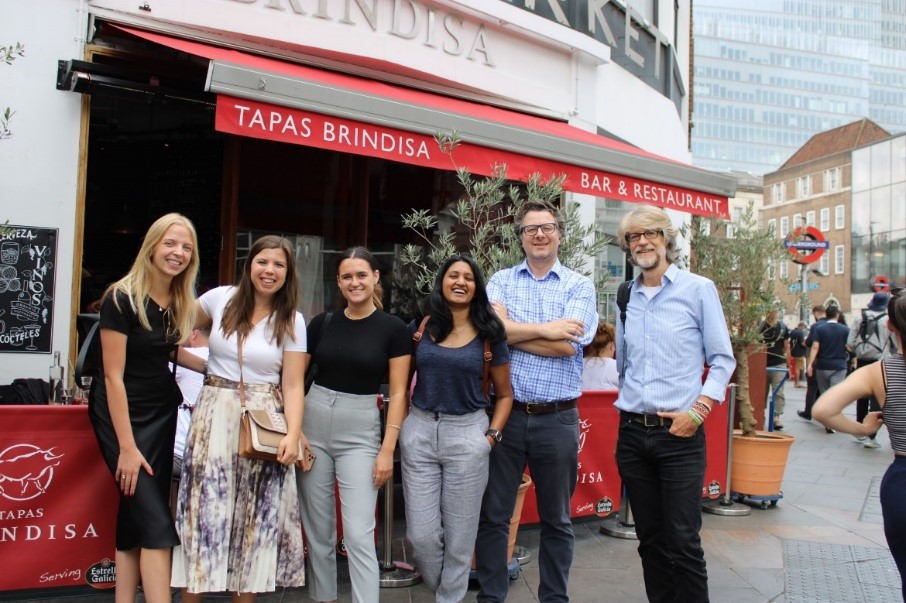 After a fantastic start to the afternoon, we made our way to the second stop on the tour, Member restaurant, Hispania. Located in 72-74 Lombard St, in the historic building of Lloyds Bank, Hispania provides imaginative takes on classic Spanish dishes and tapas, with a grand, tiled upstairs dining room. Already in awe at the beautiful decor, the team proceeded to sample the croquetas. We opted for the classic Ibérico ham croquetas, as well as Hispania's contemporary wild mushroom croquetas, with the latter being a particular favourite. Hispania has a lot to offer, one can choose to dine in the main restaurant, privately upstairs, or even hire their catering services and celebrate events. The team works hard to ensure that all of their clients feel immersed in the Spanish culture and have an authentically Spanish experience.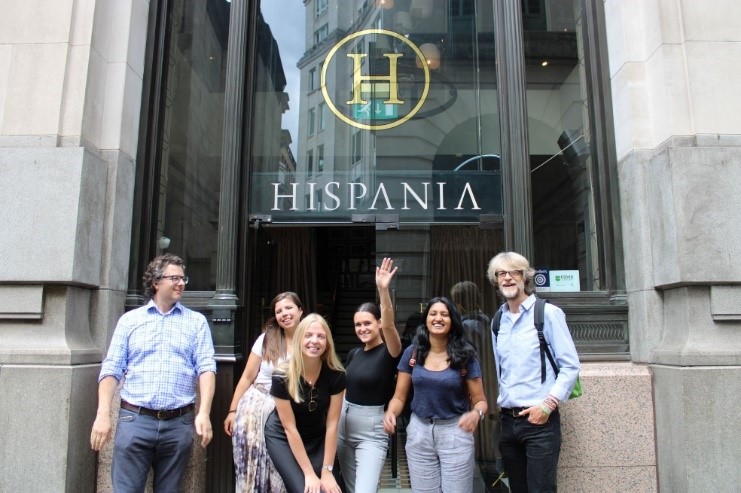 With smiles on our faces, we were anxious to get to our Patron restaurant, José Pizarro, located in Broadgate Circle. The atmosphere was vibrant and the location was superb, as it was just a few minutes' walk away from Liverpool Street Station. For those of you who are dog lovers, it is even possible to bring your puppy pal whilst you soak up the ambience on the restaurant terrace. We were immediately welcomed by our friendly and attentive waitress who poured us some delicious glasses of Spanish cava whilst we waited for our croquetas. This time, we were recommended to try the Blue Cheese and Spinach, as well as the Chicken and Chile croquetas, both showcasing a modern twist on authentic Spanish cuisine. What's more, José Pizarro Broadgate offers an exclusive Saturday Bottomless lunch, which features the finest cut of Iberian pork – 5J Presa Ibérica – and of course, their delicious croquetas!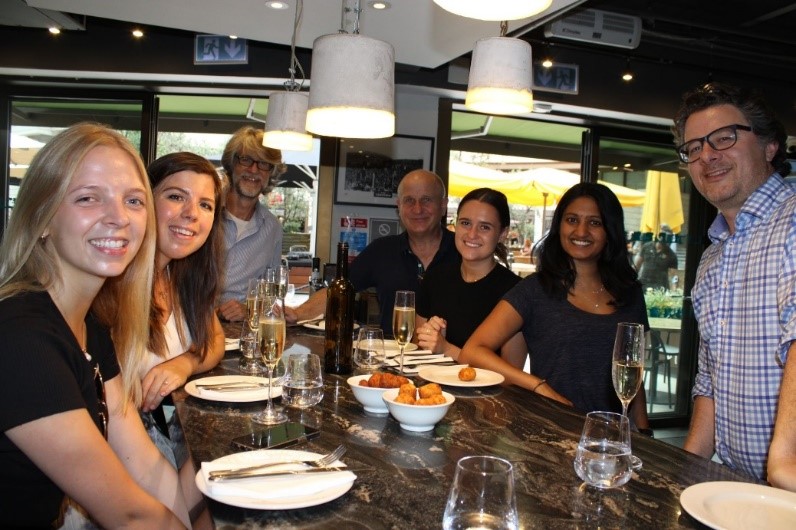 RESTAURANT 4: CAMINO
Our next stop was to Member restaurant, Camino. Inspired by a life-changing road trip in the summer of 1984, Camino is an assemblage of wonderful memories and journeys that reflects the true nature of Spain. Camino boasts a total of four restaurants, each one offering something unique. Our team decided to eat at their restaurant in Shoreditch, where we were swiftly directed to our table, marked by our very own 'Croquetas Tour' sign. This was a much-appreciated personal touch that exemplifies the brilliant character of the restaurant and its staff. When it came to ordering our croquetas we were pleased to hear that Camino offers the option to add grated manchego cheese on top of their Ibérico ham croquetas, so of course, that's what we did. The team were particularly impressed by the authenticity of the food, as well as the hand-selected bottle of wine that was delivered to our table.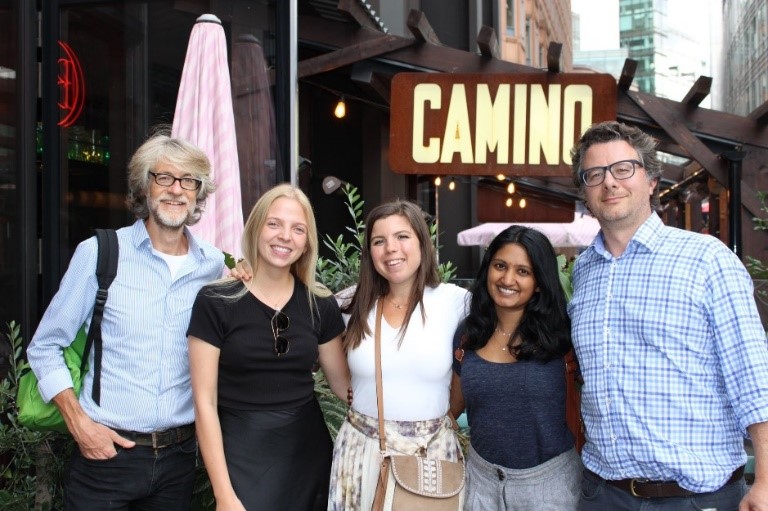 Our penultimate stop consisted of a visit to our Member restaurant, Sagardi, a restaurant that pays tribute to its roots, the Basque Country. Their chef, Iñaki López de Viñaspre brings sincerity and authenticity to each and every one of their fine products. Sagardi also offers a range of private dining experiences in which the rooms are based on the Basque "txokos" (gastronomical societies), where the Basques come together to cook, experiment with new ways of cooking, eat and socialise. As we made our way into the restaurant, our attention was immediately caught by the fantastic selection of Basque, red meat, the txuletón, showcased in Sagardi's Butcher. The open and friendly dining room was the perfect place for us to relax and try some of their Ibérico ham croquetas. Unsurprisingly, they were delicious. The relaxing and cool ambience of the restaurant, coupled with the affability of the staff, made Sagardi the perfect addition to our afternoon.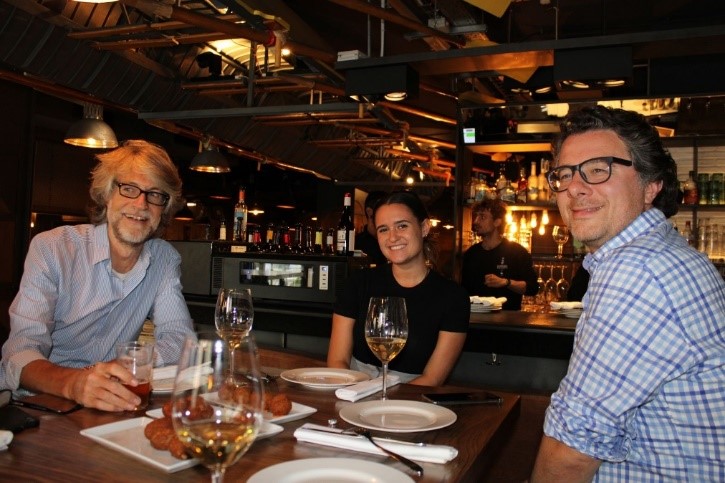 Our final Member restaurant was Boqueria, with two locations in Battersea and Acre Lane, the restaurant is inspired by the Mercat (Market) de la Boqueria in Barcelona, a top-quality food market in Spain presenting the finest quality produce of the country. The restaurant décor was both contemporary and unique, with the dining room featuring hanging grape baskets, a concept by Spanish designer Erico Navazo. The team proceeded to sample three varieties of croquetas. The first were a delicious batch of Ibérico ham croquetas, the second consisted of a fabulous chicken filling, and the third and favourite variation containing truffle and boletus. For those of you who do not drink alcoholic beverages, Boqueria have a number of non-alcoholic options, including Benefactor Estrella Galicia's 0.0, which boasts the golden colour of a typical Pilsner style beer.