Chamber member and Manchester based forwarder and groupage operator Ital Logistics has just celebrated its 20th birthday in August! Over the decades, the company has made a name for itself as a specialist carrier of chemicals and other dangerous goods, as well as freight of all kinds, throughout Italy, Greece and the Iberian Peninsula. However, it still retains the ethos of a family firm and founder Phil Denton is determined to see this continue as the company embarks on the next 20 years of its history. To get to know the company, we present an interview that he recently had with the Freight Business Journal.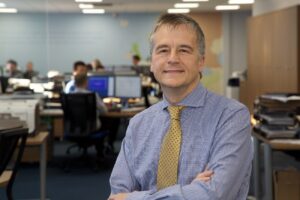 How did it all begin?
I started work in the freight industry straight from school with Tower Express in 1978, in Trafford Park, and later in the old Salford docks. I went on to work for various companies in and around Manchester and, in 1989, the company I was with then asked me to manage a new Italian trailer service. Even though I didn't know it at the time, this was an important turning point in my career, as Italy was to play a very big part in my life. Later, in 1993, I became Italian Route Development Manager at what was then M&S Europe (later renamed IS Logistics, part of the Italsempione group).
Leaving IS Logistics in 1998 I spent two years developing Italian services at a small forwarder in Burnley, alongside ITX Cargo, a spin-off from Italsempione founded in the same year by key personnel from Italsempione; namely Roberto Tagliareni, Dario Bragonzi and Claudio Moresco.
Then, Brian Hay, founding member and later to become CEO of Cardinal Maritime, asked me if I had ever thought of setting up my own company. So, with his support, I founded Ital Logistics Limited in 2000.
The company started off as a partnership between myself, the three Cardinal Directors of the time and a small shareholding by Roberto Tagliareni – but since 2015 it has been solely owned by my wife, Dianne, and I.
And how did Ital Logistics evolve over the years?
In April 2001 we moved to Eccles where we shared facilities with Cardinal, later moving with them to Sharston where we stayed until 2014.  Outgrowing these facilities, we separated from Cardinal and moved to our present office and depot at Heywood, a 16,000ft² facility over 1¼ acres, with dock-levellers, full access control, 60 day recorded CCTV coverage and secure 24/7 manned ANPR site security.
We are a North-west based company so naturally we have many customers in this region but we have valued clients all over the UK and, indeed, Europe.
While Ital started off serving primarily Italy, over time we have also become one of the leading groupage operators to and from Spain. We also service the rest of the Iberian Peninsula, Greece and, more recently, Malta and France.
Also, six years ago, we started our sea freight forwarding department. Initially, this was an added-value service for our existing road groupage clients but it has become increasingly important as a business centre in its own right.
We now have a team of 31, including myself and Dianne, most of whom have been here for between 10 and 17 years. Whilst a big investment, taking our own premises enabled growth. When we left Sharston we were just 20 people, and our turnover then was £9.4 million. Last year closed at £15.5 million.
Does ITAL have any niche areas that it specialises in?
Dangerous goods is a big Ital specialism. Over the years, I worked with many shippers in the chemical industry and when I set up Ital I realised that this was an area where there were fewer groupage operators providing a service. So we made this a specialism – and decided to do it properly.
Some of the clients I was working with in previous companies were in the chemical sector so I learned how to transport their goods. Having used a consultant in the first couple of years, and seeing the opportunity in this sector, I considered it essential to take the role of DGSA (Dangerous Goods Safety Advisor) to comply with legislation and 'do it proper'. So I became our first DGSA. That was 2004.
Now we have four qualified Dangerous Goods Safety Advisors, including myself. The DG regulations are becoming more onerous, although I do in fact wish that they would become more so and that there was stricter monitoring – both to improve safety in the supply chain and to ensure that only qualified companies move hazardous cargoes.
Specialising in dangerous goods has stood us in good stead and last year contributed 24.3% of our total shipments, with many of our forwarder competitors using our services. This indeed is testament itself to the quality of service which we provide in this sector, and also to our neutrality.
In the most recent decade, I have devoted a lot of time to developing the HAZculator®, which looks up all hazardous goods data for the different modes of transport – ADR for road, IMDG for sea freight and ferries, and also Eurotunnel and other road tunnels – and returns everything you need to know. It saves time and, more importantly, reduces human error, dealing with the problems of combining multiple hazardous loads and alerting users should they accidentally combine incompatible goods.
We also have our new bespoke freight software FREIGHTsoft®, which incorporates the HAZculator®, and handles all aspects of quoting and booking jobs, accounts, load planning, warehousing, inventory storage, CRM and integration with other systems. And more.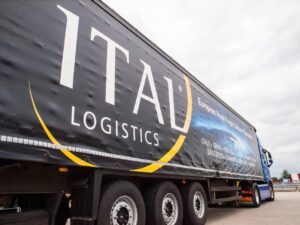 Recently, the thoughts of everyone in the freight industry – and business generally – have been dominated by the Covid crisis. How well has Ital coped and what effect has it had on the company?
First of all, let me say that the single most important factor that has allowed us to get through this is the comradeship of all our people here. Their response has been truly unbelievable and they are the main reason why Ital Logistics will get through the crisis.
During the early stages of the crisis, we regretfully furloughed 14 people on the expectation of huge losses, given that Italy and Spain contribute more than 64% of our total business. We also purchased laptops and switches so that many people could also work from home. We still had four people working in the office, along with two in the warehouse and myself. Everyone worked extremely hard to keep things going, and we ourselves kept everyone abreast of what was happening.
However, we soon found that April wasn't as quiet a month as we thought it would be – we were in fact moving around 75% of our normal business. Furthermore, taking into account government support, we are operating at more or less break-even level, so all in all we've been pretty resilient. Our specialisation in the carriage of dangerous goods has been one of the reasons.
Perhaps lucky, but very few of our customers have shut up shop completely, and we've been able to keep our services going to all our markets. Indeed, the other factor that has helped us is that we have many good, loyal customers. We've also picked up a lot of business for our freight forwarding department – in fact, April was our best ever month for sea freight – which will stand us in good stead for the future, especially after Brexit.
We have gradually brought people back, with just seven possibly still on furlough when this goes to print, and hope to be back to full strength before too long.
Any thoughts on how Ital and the industry generally will emerge from the Covid crisis?
My personal thoughts are that the period of greatest risk is not immediately after the crisis, but next year, when there could be the biggest risk of company insolvencies. The government has offered loans and subsidies to keep businesses afloat – arguably, more than any other in the world – but there will come a time when all the deferred tax and VAT will have to be paid, and people shouldn't forget that. The government needs to take a gentle approach to companies in March, which I believe will be the period of real pain. And it will be a long term process – the financial experts say it will be a six to eight-quarter recovery from this financial crisis and when you factor in Brexit, well, it may even be longer.
The best thing that we can do is to keep on doing what we have done for the last 20 years. Yes, the landscape of business is changing, but if it isn't broken, we shouldn't try to fix it, just 'tweak it' here and there.
Any thoughts on Brexit?
What can anyone say that hasn't already been said on this subject? Nonetheless, we did get all our preparation work done, as far as was possible, prior to the previous deadlines, so we are as geared up as anyone can be. Our software has been adjusted to provide the information necessary to pass to our customs brokers, and we will further adjust it in Q4 to ensure it meets needs, and will pick up on the necessary training.
Brexit has been overshadowed by Covid, but I haven't changed my diary. A lot can still change.
You have built up Ital from scratch over 20 years. How are you going to hand on that legacy?
It would be very easy to accept a large cheque for the company from a multinational and indeed I have been approached on a couple of occasions in the last few years. But I'm very mindful that without the people that work in it, the company wouldn't be where it is today, so it's very important those who have worked the hardest at Ital Logistics have a long-term future in it.
As I have said, most of our people have been here over ten years, one has been here 17 years and, once they come here, they tend not to leave.
This year, we were going to start a five-year management buyout process. Obviously, this has had to be put on hold, but this is still the intended route plan, with myself retaining a small shareholding. It is just delayed and we will pick this back up about a year from now.
I hope that way we will be able to maintain the ethos of a family company – and look forward to the next 20 years.
To find about more about Ital logistics and the services they offer, you can visit their website here: https://ital-logistics.com/.