On the 19th of June we were pleased to hold a special event at the Embassy of Spain: The Awards Ceremony of the Charity Tennis & Padel Tournament. Following on from the tournament that had just taken place, this cocktail reception was the perfect occasion to announce and award the prizes of the winning teams. As guests who had taken part in the tournament as well as those from companies which had made generous donations met and caught up with each other they were able to enjoy delicious ham from 5 Jotas and a selection of artisan Spanish cheeses from Hispania; members of the Spanish Chamber. Wines from our Patrons Codorníu Raventós were also being served for all to enjoy.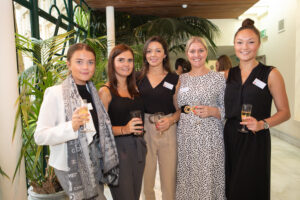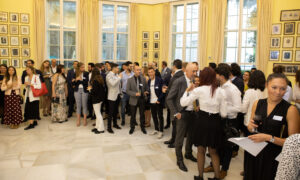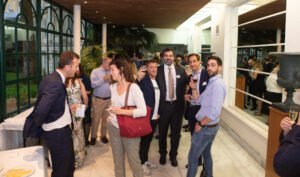 But it was not all about sports- the main purpose of this event was to fundraise for the Fundación Mario Losantos del Campo (FMLC, www.fundacionmlc.org), which provides support for those in developing counties going through a grief process. This organisation was created in 2000 by the Losantos Ucha family and since then they have undertaken support projects in countries including Spain, the Dominican Republic, Mozambique, Kenya and Bolivia, working to improve the quality of life of people around the globe.
Beginning at 6:30pm on a warm summer's evening, the reception took place in the cool and leafy foyer area of the Embassy which is located in Belgravia. Following the arrival drinks and a speech from representatives from the Losantos family, the highly anticipated charity raffle prize draw took place. Many of the hopeful ticket holders were already dreaming about the incredible prizes:
– Round-trip flights for two people to a variety of destinations in the American continent (mainly in Latin America), courtesy of Air Europa.
– Dinner for two people at the acclaimed Japanese-Mediterranean fusion restaurant Zela.
– Luxury beauty products kindly donated by specialised Natura Bissé cosmetics.
– A two night stay for two people (w/ breakfast) at the exceptionally located 4 star Meliá White House Hotel, in London.
– Dinner for two at luxurious Hispania restaurant in the heart of the City of London.
– A two night stay for two people at H10 Arts Gallery Barcelona, a superior 4 star hotel located in the Eixample district.
– Professional dental whitening services at Stonehealth Clinic.
– A box of wine from Marques de Cáceres.
– A box of wine from Raventós Codorníu.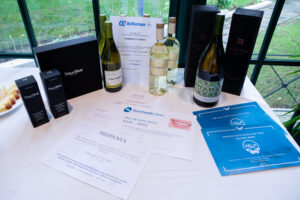 We would like to thank all of the participants for taking part in this charity event which we look forward to repeating next year. Particular special thanks go to our sponsors: Cinco Jotas for the tasty jamón, Hispania for the delectable cheeses, Marqués de Cáceres for the quality wine and Raventós Codorníu for their delicious cava. We hope to see you all again in 2020!