Our second Elevator Pitch of the year took place on Wednesday the 15th of May, at the Chamber's main office in Marylebone, London.
The guests arrived bright and early and introduced themselves to each other over coffee and tea. Then everyone took their seat before Hannah, our events manager, opened up the event by welcoming all of the participants and providing a recap of the rules:
– Participation is limited to one representative per company.
– A maximum of sixteen companies can take part in each edition.
– A maximum of two companies of the same sector can participate in each edition.
– Each attendee has a maximum of two minutes in order to explain the work of their company to the other participants.
After each representative has finished giving their pitch the question session ensues, in which each attendee has the chance to ask any questions to their fellow participants about their companies, what they specifically offer and how they work, etc. They then have the opportunity to network more informally over some light continental breakfast. Everyone leaves with a business card of each person who took part in the event.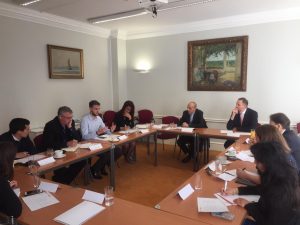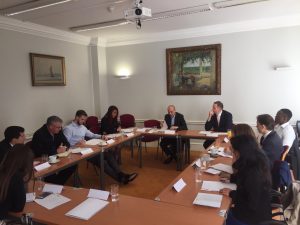 This time 10 companies from a wide range of sectors joined us: Vamos Let's learn Spanish (Spanish language schools), AG Design & Construction (design consultancy & construction management), Hiberus (business & technology consultancy), Moneycorp (foreign exchange specialist), Stonehealth Clinic (dental & medical centre), Technorizon (IT security solutions), Grant Thornton (assurance and taxation), Zela London (Japanese-Mediterranean fusion cuisine), England A Medida (English language stays in the country) and Smartive (wind turbines management).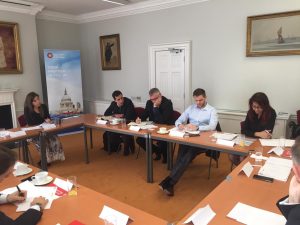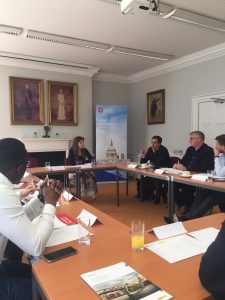 The session proved to be a great success with a strong dialogue, and everyone received interesting questions from the other companies' representatives. We also would like to thank all attendees who took part in this edition of the Elevator Pitch and we hope they found it to have been as useful and enjoyable as we did!
If you have not yet participated in an Elevator Pitch event but are interested in doing so, we encourage you to keep an eye on our newsletter, as well as the UPCOMING EVENTS section of our website for more information about the next one!