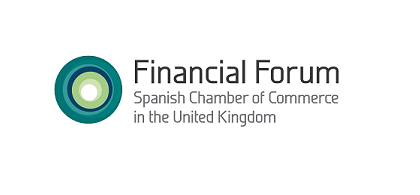 Financial Forum of the Spanish Chamber
The Financial Forum is both organised and funded by the Spanish Chamber of Commerce in the United Kingdom. It was approved at an Extraordinary Meeting of the Chamber's board of directors on the 17th June 2013 and was officially launched during a ceremony at the Spanish Embassy in London on the 31st January 2014.
The main function of the forum is to bring together Spanish professionals working in London's financial centre and to create a space which promotes a dialogue and the exchange of ideas between peers in the financial markets.
The forum aims to inspire debate surrounding financial matters relating to Spain and its companies and to share experiences with professionals and renowned individuals. The discussion is carried out through presentations, debates, panel discussions and seminars; all of which are attended by a guest speaker. In the current economic and financial context, the Chamber of Commerce wishes to facilitate the flow of ideas among these relevant financial companies.
For further information about the activities organised by the Financial Forum, please visit the Past Events section of our website click here to access it directly where all forum sessions will appear in reverse chronological order.
The forum is made up of 30 representatives of financial organisations from Spain, the UK and around the world.
Permanent Forum committee:
President of the Chamber: Mr. Eduardo Barrachina
Forum Secretary: Mr. Nacho Morais (Frank Consullting)
Economic and Commercial Counsellor of the Spanish Embassy: Mr. Álvaro Nadal
Vice Presidents of the Chamber: Mr. Juan Botín (Santander S.A.)
Members of the Spanish Chamber Executive Committee:  Mr. Anselmo Andrade
President: Mr. Antonio Oporto
Members:
Mr. Jorge Alcover, Goldman Sachs
Mr. Ovidio Javier Bartolomé, Sacyr
Mr. Juan Blasco, BBVA
Mr. Juan Botín, Santander
Mr. Andrés Calzado, Nomura
Mr. José Carretero, Morgan Stanley
Mr. Albert Coll, Banco Sabadell
Mr. Marcelino Castrillo, RBS
Mr. José Cogolludo, Citi
Mr. Jerónimo Cruz, Dragados
Mr. Mariano Echeguren, JZ International
Mr. Carlos Fleury, Bank of America / Merrill Lynch
Mr. Rafael Gil-Alberdi, Deutsche Bank
Mr. Demetrio Salorio, Société Générale
Mr. Pablo de la Infiesta, Moelis
Mr. José Rodrigo, BNP Paribas
Mr. Arturo Miranda, JP Morgan
Mr. Virilo Moro
Mr. Anselmo Andrade, BBVA
Mr. Sergi Periago, Caixabank
Mr. Bruno Poggi
Mr. Javier Pollán, Citi
Mr. Sergio Ravich, Unicredit
Mr. Jesús Río Cortés, Apollo
Mr. Antonio Román, Santander
Mr. Javier San Basilio, Mapfre
Mr. Ramon Tàrrech, Indra
Mr. Vincent Vitores, Arcmont
Mr. Borja Zamorano, Mizuho
Mr. Piers Shingleton, Indra-Minsait
Mr. Felipe Martínez, EBRD