Are you interested in shaking up your company's image and branding, and looking to get inspired?
Look no further – you are invited to discover new ways of evolution by creating your own brand experience with the help of Chamber member Brandlond®.
The demands of society are increasingly calling on us to integrate brand purpose into the corporate culture and mission of organisation. Moreover, it is crucial to work on creativity in any point of sale; it helps to build user loyalty, as it makes them live a memorable experience tailored to their needs.
If you want to create a memorable brand experience, this is your workshop!
During this one off, intensive workshop, join us to gain firsthand knowledge of the real experiences that users from the 21st century prefer. During the session you will be able to interact with more than 20 brand examples, enabling us to meet, analyse and live the spirit of the last tendencies to forecast the needs of new users according to your business model.
What are you waiting for to inspire your vision? 
SIGN UP NOW!
DATE: Thursday 16th September, 08.30 – 13.30 UK time
Workshop programme:
08:30 – 10:00: Welcome. Cyclical mindset & branding for business
10:00 – 11:00: Case Study: Branding & Business
11:00 – 13:00: Workshop: Innovation through Branding
13:00 – 13:00 Feedback & event close
About the speaker:
Business designer and brand consultant, Marc Guitart lives and works in London. He founded brandcelona® in 2006, a Creative Strategic Design Firm in Barcelona and from 2018 he created brandlond@ in London. The firm combines business design and brand consultancy services with international university teaching. Marc Guitart has been awarded throughout his career with several international prizes, recently with a Gold Award by Pentawards London for the Packaging Excellence.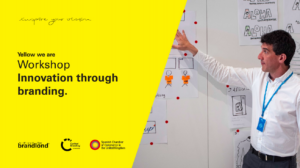 www.brandlond.com     www.cyclicalbranding.com     @brandlond