With a 60% overall decline in the number of air passengers and a fall of global merchandise trade of 9.2%, 2020 was a particularly challenging year for international airports. There is a clear need for comprehensive plans in order to adapt to changing regulations, assure international connectivity and preserve airports as catalysts for major trade, business and entrepreneurship.
For our first Connecting to Spain webinar of 2021, organised in collaboration with the Spanish Consulate in Edinburgh, you are invited to join us for a dialogue between the top executive officers of the main airports of two highly touristic cities, Edinburgh and Alicante, which together summed a footfall of almost 16 million passengers in 2019. Gordon Dewar, Chief Executive of Edinburgh Airport and Laura Navarro, Director of Alicante Airport, will be sharing with us their views on how they believe the pandemic will continue to reshape the travel industry forever, as well as their plans and vision for the months and years to come.
Date: Tuesday 23rd February, 11:00 – 12:00 UK time/ 12:00 – 13:00 Mainland Spain time
About the speakers: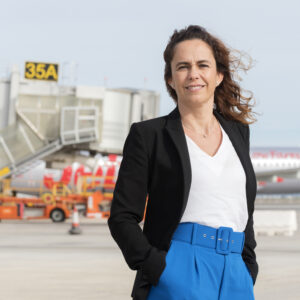 Laura Navarro Villanueva holds an advanced Industrial Engineering degree from the Universidad Politécnica de Valencia and has a post-graduate certificate from the University of Cranfield (UK) in Aviation Management. She is currently the Director of Alicante-Elche Airport, a position which she has held since November 2019.
With over seven years of experience in the private engineering sector, particularly in the field of the industrial automation and control in the production plants, Laura joined Aena in 2006 at the airport of Alicante-Elche. Through her management, the airport has won three awards from Airport Council International in recent years: Best Airport 2017 (ACI Europe Awards) as well as the prestigious Airport Service Quality Award in 2018 and 2019.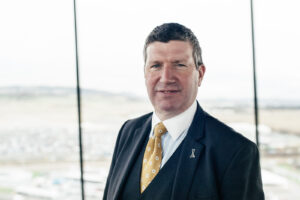 Gordon Dewar took up the post of Chief Executive of Edinburgh Airport in July 2012, with the airport experiencing 63% growth in passengers from 9m to 14.7m passengers in 2019 – a record for any Scottish airport. Rebranding the airport as the place where 'Scotland meets the world', Gordon has overseen significant capital investment in capacity, productivity improvements and customer service enhancements that have been recognised through airport and wider business awards in Scotland, the UK and internationally.
Gordon has worked tirelessly to steer the airport through the Covid-19 pandemic, ensuring it stayed open throughout and diversifying the approach. He has  spent 4 years with BAA running Glasgow and Edinburgh airports through periods of extensive investments in terminal capacity and passenger growth from 2007 to 2010.  He then spent 2 years as Chief Executive at Bahrain International Airport creating a independent and profitable business for the first time after a carve out from Government.
Gordon is also a Board member of the Scottish Tourism Alliance.