The importance of mental health has been underestimated for a long time yet unfortunately the pandemic has magnified the psychological challenges that many of us are already dealing with. Paying attention to our mental health is not only about fixing disorders, but also about setting ourselves up for success in all aspects of our lives.
As an employer, you could be interested in offering your employees tools to improve their mental wellbeing and satisfaction as a means to facilitate optimal performance.
As an employee, you could be interested in understanding more about your unconscious processes, the impact they have on your life and how to ensure that you are fulfilling your full potential.
Held alongside new Chamber member Psychoanalyst London,  join us for this an informative virtual workshop to learn more about:
Why it is more important than ever for both employers and employees to invest in mental health
The most prominent mental health challenges and how companies can support their staff to overcome them
How to normalise conversations about mental health in the workplace
Why psychoanalysis is a vital tool to help us be at our best and how it facilitates long term transformation
Date: Wednesday 2nd June 2021, 10:30-11:30am BST / 11:30 – 12:30 CEST
REGISTER HERE
About the speaker: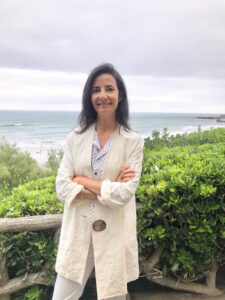 María is a Psychoanalyst from Escuela Grupo Cero (Madrid). She provides a different psychotherapy approach to promoting mental wellbeing at an individual level and to companies as a whole. She can help with a broad range of issues including lack of success, relationships, anxiety, eating disorders and hypochondria.
Having worked for more than 10 years in corporations including Apple has enabled her to gain a deeper understanding of how psychoanalysis can be applied to business organisations. She helps companies to build a healthy and productive work culture: a culture which supports wellbeing and promotes not only success of employees but also of companies as a whole.
In addition to having studied E-3 (Business & Law) at Universidad Pontificia de Comillas ICADE, in 2011, while working at Orange she started training as a psychoanalyst with Escuela de Psicoanálisis Grupo Cero (Madrid). Today she works as a full time psychoanalyst. As part of her continuous professional development, she attends seminars and conferences, researches psychosomatic medicine and carries out supervision and personal analysis.