The Spanish Chamber of Commerce in the UK invites you to join us for the next in-person Meliá Business Breakfast event.
Hosted by the stunning Meliá White House hotel, patrons of the Chamber, for this occasion we are excited to be joined by HM's Ambassador to Spain and non-resident Ambassador to Andorra, Hugh Elliott as our special guest. Welcoming words will be given by Mr. Gabriel Escarrer, the CEO of Meliá Hotels International. The Ambassador will give a briefing on the current state of the commercial relationship between Spain and the UK and the movement of people between the two nations. The talk will be followed by an open discussion between all event participants and the opportunity for all questions to be answered. The discourse will then be followed by a networking breakfast.
When: Tuesday 9th November 2021, 8:00am (for an 8:30am start) – 9:30am
Where: Meliá White House | Albany St |London NW1 3UP
This event is free for members of the Spanish Chamber of Commerce in the UK.
REGISTER HERE
COVID-19: The Spanish Chamber continually monitors and follows UK government health guidelines to protect our staff and guests at our events. We want to provide a safe environment and therefore we kindly ask that you follow the government's advice to self-isolate in case you have any symptoms of COVID-19 or feel unwell, and certainly do not come to any of our events if this is the case. You are additionally strongly encouraged to take a lateral flow test in advance of coming to any of our in-person events.
We will endeavour to keep the venue as well ventilated as possible throughout the event tomorrow and wearing a face mask at this event will be optional, please do so if would make you feel more comfortable. If you have any questions, please do not hesitate to contact us.
About the Ambassador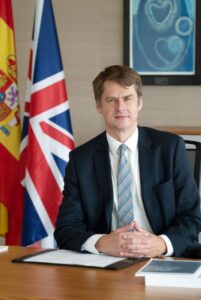 Hugh Elliott joined the UK Foreign Office in 1989 and has held a range of diplomatic positions in  Spain, Argentina and France, as well as in the UK. He has also worked for several years in the private sector as Head of Government Relations for the multi-national mining company Anglo American plc.
More recently, he has held senior positions in the Foreign, Commonwealth and Development Office (FCDO) as Director of Communication, Director for Europe and Director for International Agreements.  Immediately before his appointment as Ambassador to Spain and Andorra, he was Director of Communications for the Department for Exiting the European Union.  He is a former Chairman of Canning House, the UK's centre for Latin America.